Our Mission & Vision
The mission of FCC Noble is to love God, to love others, and to magnify the name of Jesus Christ. The vision of our church is to glorify our God and Savior, Jesus Christ, to make true disciples throughout all the nations by means of missionary activity and support, to minister the ordinances, to edify believers, and to do all that is possible to magnify the name of Jesus.
Leadership Team:
Our leadership team recognizes the authority of God, and realizes that we are shepherds who serve under the Chief Shepherd, Jesus Christ. We desire to devote ourselves to prayer and to the ministry of the Word. Our passion and goal is to equip the believers for the work of the ministry until we all attain maturity in the fullness of Christ.

Joel Harrison, Senior Minister
Joel grew up just outside of St. Louis in O'Fallon, IL where he was a part of Central Christian Church. While in Jr. High he started to feel God calling him into ministry. Under the mentorship of his ministers, Charlie McGee and Paul Swanson, he made the commitment to full-time ministry. In 2005 he graduated from Kentucky Christian University with a BA in Youth and Family Ministry and Bible.
After graduation Joel served at the First Christian Church of Christopher, IL. This is
where he met and fell in love with Cathy, and they were married in October of 2006. In 2008 they moved to Rockford, IL where Joel served as Associate/Youth Minister at Calvary Christian Church. During this time God added two lovely girls to their family. in 2019 God placed on Joel's heart to pursue a Senior Minister position which ended up leading him here to First Christian Church of Noble.
Malachi Keen, Student Minister
Malachi grew up as a pastor's kid. He spend the majority of his childhood in Washington, MO. He first felt the calling into ministry in high school when he got the opportunity to baptize one of his friends while at church camp. He knew that serving Jesus and leading more people to Him was what God wanted him to do with his life. Malachi attended St. Louis Christian College, and graduated from there in 2019 with a degree in Youth Ministry. He and his wife Michala were married in December of 2019 and have two children. Before coming to FCC Noble, they attended and served at Gateway Christian Church in St. Louis, MO.
Becky Ray, Worship & Children's Minister
Becky grew up as a Missionary kid in Mexico for almost 12 years. After moving back to the St. Louis area, she went to St. Louis Christian College for a year, got married to her husband Matt, and started their family of now six children. Music has always been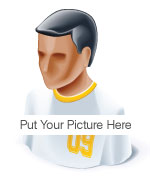 a huge part of her life. It became a way of healing for her soul, and she is now ready to start sharing that same hope with others. Worship has been her calling from a young age, but it wasn't until more recently that she was ready to follow God's lead and calling on her life, and she went back to SLCC to pursue finishing her BA of Worship. Becky understands deeply the struggles others have endured and knows that it takes a surrendered heart to allow God to heal our many wounds. Her goal as Worship Minister is to provide a space where people can gather, be open and honest and be willing to live lives that are a daily reflection of who Christ is and to worship Him collectively and individually daily, learning and growing, serving and loving others around us, and ultimately giving God our best, because He is worthy of it all.
What we believe:
Please download our full doctrinal statement.